Video 360 de RedbullVideo 360 Redbull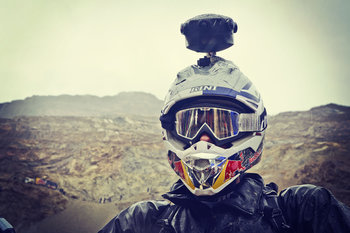 Video 360 inédito y especialmente grabado para el espectacular evento de enduro extremo Red Bull Hare Scramble 360… en el podrás interactuar en todos los ángulos de visión con el simple desplazamiento del cursor sobre la pantalla de reproducción del video 360.
Puedes disfrutar del avance pulsando sobre este enlace » experiencia VIDEO 360 «.
Esta nueva modalidad ya existe desde hace tiempo, pero es ahora que estamos empezando a disfrutar de este medio de comunicación futurista de una manera actual gracias a la comunicación y experiéncia del usuario en probar nuevas maneras de recibir la información y que se comuniquen con el , o bien … como este caso…. que el usuario no es un actor pasivo… sino que ahora pasa a ser actor totalmente activo que determina qué y cómo quiere recibir esta información y cómo interactuar con ella.
Esto nos abre infinitos caminos a descubir en la publicidad 360, películas 360 …
Estaremos a la espera de recibir nuevos avances de esta tecnologíaVideo 360 unreleased and especially recorded for extreme enduro event spectacular Red Bull Hare Scramble 360 … can interact at all angles of vision with simply moving the cursor on the video playback screen 360.
You can enjoy the progress by clicking on this link «VIDEO 360 experience.»
This new method has already existed for some time, but now we are starting to enjoy this futuristic media in a current through communication and user experience testing new ways to receive information and communicate with, or … as this case …. that the user is not a passive actor … but now becomes fully active player determines what and how you want to receive this information and how to interact with it.
This opens them to discover infinite paths in advertising 360, 360 movies …
We'll be waiting for new developments of this technology